Member Spotlight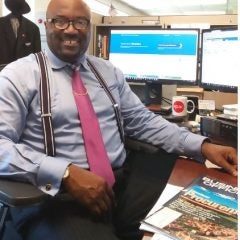 Nester Komolafe joined UIC in 2008. He currently works as a Contracts Coordinator in the Purchasing Division, UIC Office of Budget and Financial Administration. He joined APAC in 2013.

"I was motivated to join APAC in 2013 to apply systemic thinking and pragmatic solutions to shape APAC's suggestions and communications that deliver positive impacts," he said.

Nester is a member of the APAC Subcommittees on Bylaws and Communications.

"I consider my contributions to APAC to support an affirmation that dynamism and good leadership can give muscular expression to academic professionals' legitimate yearnings and aspiration for good governance and accountability in UIC," says Nester.